Are you thinking about replacing your air conditioning system, or having a new home cooling system installed? With so much information out there online these days, and so many HVAC companies offering different prices and recommendations, it's easy for a homeowner to become confused in all of it. Furthermore, in today's Do-It-Yourself trends, some homeowners might even think they can do a lot of their own HVAC work by themselves to save money.
However, with almost a half of a century of experience as a family company, we should stress that this latter idea is not advisable when it comes to something as intricate as an HVAC system. Not only is installing a new air conditioning system dangerous, however, without the right expertise and experience, it can also be very expensive if done improperly. In doing something as technical as installing an air conditioning system, a homeowner runs the risk of damaging something that could cost thousands more to fix or replace. If you're ready to have a new cooling system installed give us a call and we can help you get the information, equipment, and savings that you deserve.
We also do emergency repair calls after our normal business hours. Our friendly technicians at Xenia Heating & Air are ready to show up at your home in record time, make a fast and accurate diagnosis and with your approval, perform an emergency repair on the spot, getting crisp, cool air back in your home in no time. We guarantee 100% Satisfaction!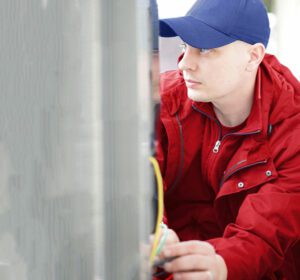 Our Installations are Fast and Clean!
Our HVAC technicians are very conscientious in your home and very respectful. When they come inside, they are required to wear shoe coverings and an appropriate face mask. While they are doing the installation, they utilize clean drop cloths; they will sometimes wear coveralls for any work required in dirty attics, crawl spaces or basements; they will utilize shop vacs, brooms, dust pans, garbage bags … and basically anything they could possibly need to get the job done as cleanly and efficiently as possible. While installing any new central air conditioning unit, they are careful when removing it from the packaging and careful taking out the old equipment. We always, 100 percent every time, clean up any messes stemming from the work we do and we do a final walk through at the end to make sure we didn't miss anything. Once they have completed the work and they are leaving, you will have your new AC system quietly purring in the background, the instruction manuals neatly set aside, and a nice cool, clean and comfortable home.
Get The Deals You Deserve This Season, On A/C Maintenance + Repairs!
A/C Diagnostic Service Call
Keeping your home at a comfortable temperature can be challenging and expensive without regular HVAC maintenance. Let one of our NATE- certified HVAC technicians come out and take a look at your A/C today!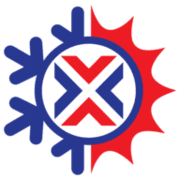 $49 Diagnostic Service Call
Save $50 | Regular $99
Should I Repair or Replace My A/C?
As the time begins to approach to replace any old AC system, planning ahead is extremely important. As such, anytime an AC is 10 to 15 years in age, we have a general rule of thumb in our line of work: At about the 10 to 15 year mark, it is a good time to start to think about replacing it. Be mindful, with that said, that age is just a number, and this is only a general guideline. The actual number of years a system operates usefully depends on several factors, like how well it was initially installed, how well repairs have been handled over the years, how often repairs have been necessary, and most of all how consistently the system had professional preventative maintenance. A system that's been consistently maintained will almost always outlive one that was not. Everything else aside, if you begin noticing any of the signs we outline below, you should have an AC repair tech come look at your system. The following "symptoms" point toward the need for a new AC:
Inconsistency In Cooling Levels
There Is Moisture Leakage
Unusual Noises And Sounds
Oily Residue On The Parts
Will I Get a Warranty with a New A/C System?
Most air conditioning manufacturers extend a 10-year warranty on all the AC system's parts and equipment. To go along with that, to cover you 100 percent, we combine that with our own 10-year labor warranty on all of our AC installations. This means if something fails because of our installation or because of a defective part, which rarely happens, you are covered 100 percent. Just call our head office and we will have it repaired as quickly as possible.
Now with that said, in order to limit, if not eliminate, the number of call backs we get, we go to great lengths to guarantee we do the job right the first time, each and every time. This is also why we only send out only the best local HVAC technicians possible. We double check every bit of our work when we are done. We also do a final walk-through with you, our valued customer, upon completion to make certain you are 100 percent happy with the job. In our type of work, just like many others, we realize that mistakes can happen; it's entirely possible for a part to fail; plus there's always a chance of that "perfect storm" so-to-speak. As such, if something does happen, don't wait; don't hesitate to call us right away. We give our few warranty calls the highest priority with same-day scheduling. Furthermore, when we are 30-minutes away, we will call you to give you a heads up.
We service all brands of cooling equipment and HVAC systems, including leading brands like Carrier, Coleman, Trane, American Standard, Amana, Frigidaire, Comfortmaker, Bryant, Gibson, Goodman, Heil, York, Maytag, Lennox, Rheem, Tempstar and more.
No matter what kind of cooling system you have in your home, regardless of how old or rare it is, we are the right team to call for help. Plus we guarantee customer satisfaction 100 percent.
Most Common Types of A/C Systems
Ductless Mini-Split systems
For homeowners wanting to keep their home cool but don't have an air duct system, or don't want to use one, ductless systems are the typical system style of choice. While the other systems need air ducts to transport the cooled or heated air from the AC or furnace and out into the home, ductless systems do not. Ductless mini-split systems use an outdoor AC unit or heat pump, and it is connected to the air handling units in the different areas of the home. Because the air is delivered to each room or each area separately from the other air handlers, it enables greater efficiency in energy usage and more superior temperature control, and this translates to cost savings.
Packaged Air Conditioners
A packaged air conditioner is a heat pump combined with an electric air conditioner. These typically sit on top of the roof or outside the home or commercial building. They are popular choices for commercial applications because of their small footprint and installation flexibility.
Split Systems
Split systems are the most common types of central AC systems in the U.S. The term "split" is used because this type of system has parts both inside and outside. The inside portion is called the air handler. Air handlers house the blower and evaporator coil. The outside component is what people generally regard to be the AC unit itself. However, the outside portion is a metal case that houses the compressor and condenser coil. The refrigerant lines are connected to the air handler. Homes that have a furnace for central heating, typically have this split system.
Heat Pumps
Heat pumps are another type of split system. Instead of the typical dual AC and furnace system, heat pumps are used all year long, giving the homeowner heat during the wintertime and cooled air during the summertime. Similar to the split system, heat pumps use an air handler indoors, with the actual heat pump casing located outside the home. This outdoor casing resembles very much a central air conditioning system. Heat pumps can either be air sourced or geothermal, the difference being whether it uses the ground to extract and deposit heat, or the air.
How Long Will It Take to Install a New Cooling System?
The moment you make the decision to have us install a new AC system, we move fast. Within a single day we safely take out the old system, install the new system, hook up the electrical connections and ductwork and calibrate and test all the controls. By the end of the day, we will be reviewing all the details with you and, as long as you are happy, be on our way. Scheduling an appointment with us is super convenient and easy, too. We make the entire process a stress-free positive experience you won't mind telling your friends and family about. Our team of courteous certified technicians perform this work professionally all day long, each and every day, all around the community. They are happy to come over to your place on time, fully prepared and ready to get the job done. They know to be kind and respectful in your home and they work hard to do the job right, cleaning everything up at the end, while making sure you are 100 percent happy with everything and understand everything. If you have any questions, they are knowledgeable and can answer any questions you might have. If for some reason you aren't happy with anything we have done, we will make it right before we leave.