Let Us Repair Your Heat Pump, The Right Way!
Heat pumps are convenient and efficient; they are one of the only HVAC systems on the market today that heat your home during the wintertime and cool your home during the summertime. This makes them a resourceful and cost-effective option to use year-round.
If you already have a heat pump and you need a trustworthy, competitively priced heat pump repair technician, give our trusted team at Xenia Heating & Air a call today! We have an outstanding team of friendly, certified HVAC technicians in the Greater Greene County area; these are some of the best HVAC repair technicians in the local area and we have an emergency repair service.
If you are having issues with your heat pump, it's important that you give us a call at the first sign of trouble before things get worse.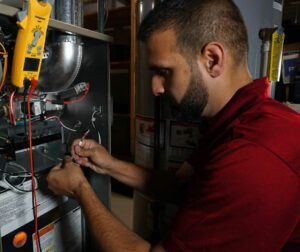 Should I Repair or Replace My Heat Pump?
Making the decision to repair or replace your heat pump can be a big decision, and not one to be taken lightly. With that in mind there are times that it may be more beneficial to replace your heat pump then to continue repairing it. If your heat pump is at least 10 years old and requires a major repair, it may be time to start thinking about replacing it. A well maintained heat pump can last as long as 20 years, however you might start to notice a decline in its performance much sooner then that if its not properly maintained over the course of its lifetime. Energy Star recommends replacing systems that are over 10 years old because newer systems generally use higher efficiency features then they did in the past which can contribute to overall energy savings. However, If your heat pump still holds a valid warranty, is less than 10 years old, and dose not require frequent or expensive repairs then you are most likely safe to keep it a while longer and continue with regular maintenance and repairs as needed.  If you have a heat pump that you think needs a repair, maintenance, or replacement give our NATE-certified technicians at Xenia Heating & Air a call, they are standing by to help with all of your HVAC needs. If you require immediate assistance we also have emergency services available 24/7, even on the holidays and weekends! We are always here when you need us the most! (937) 708-8451.
Get The Deals You Deserve This Season, On Heat Pump Repair + Maintenance!
An inefficient or poorly performing heating and cooling system will not fix itself. Avoid discomfort and get an experienced technician to figure out what's wrong with your heating or cooling system before it's too late! Learn more about this deal and schedule today!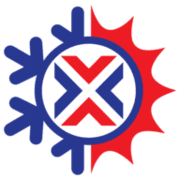 $89 Diagnostic Service Call
Save $50 | Regular $129
Freezing up
During the winter months, heat pump's utilize an outdoor coil to release heat. During the summer, this same coil absorbs the heat. Because of this, it's not uncommon for a layer of frost to develop on the outdoor unit during the winter. If it starts forming frost like this, you should remove the frost because if too much of it builds up and a layer of ice develops, it can lead to problems. Because heat pumps are supposed to be defrosting itself on its own, we suggest giving us a call right away if it starts doing this. Frost puts a lot of excess strain on heat pump systems and it can eventually make the system break down.
Electrical problems
Heat pumps utilize electricity to power its fan motor and compressors. Because of this, electrical malfunctions are often a common cause of heat pump problems. Faulty electrical parts should be replaced by a professional only for obvious safety reasons.
Faulty Reversing Valve
Heat pumps have a "reversing valve" that allows the system to reverse the flow of its refrigerant; this enables homeowners to switch from "cooling mode" during the summer months to "heating mode" during the winter. Occasionally, this "reversing valve" malfunctions and gets stuck in a single position, which prevents a homeowner from alternating back and forth between these two modes. Make sure to give us a call to replace the faulty valve safely and effectively if this is happening with your heat pump.
Difficult to Start Or Keep Running?
If your furnace is having a hard time starting up and staying on, there could be several things going on, including bad wiring, thermostat malfunctions, pilot light malfunctions or fan motor problems. In any case, you should give us a call at (937) 708-8451, to have one of our NATE-certified technicians take a look.