Proudly Serving Wilerforce, OH Residents
Our team at Xenia Heating & Air proudly services the people of Wilberforce, OH, with the highest quality of HVAC services in the area. If you are a Wilberforce resident who is looking for a reliable, affordable and five star rated HVAC company to serve your needs, look no further.
At Xenia Heating & Air we offer a wide variety of HVAC services including: repairs, replacements, and maintenance for your air conditioner, furnace, or heat pump. No matter the brand or age we can help you get comfortable in your home again. If your looking to improve your homes indoor air quality we also offer a wide range of add-on devices and systems that include whole-home humidifiers, dehumidifiers, air purification technology, UV lights or UV Lamps, air filters, iWave-Rs and more.
If you reside in Wilberforce and need assistance, we would be honored to help you by providing any of our premium HVAC services at the most affordable price rates in the region.
Need emergency heating or cooling services? Give us a call.
Is your AC blowing warm air? Give us a call.
Is your furnace not warming your home? Give us a call today at (937) 708-8451. You can also get the ball rolling now and set up an appointment online by clicking here!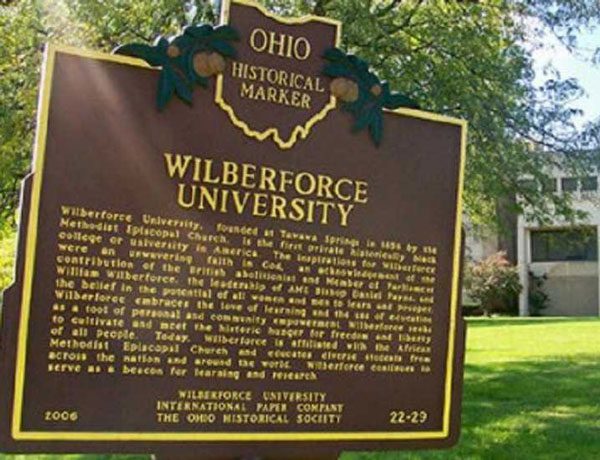 Learn More About Wilberforce, OH
Deriving its name after a British statesmen who was a leader in abolishing the slavery, Wilberforce is a community in Greene County southwest of Xenia with a population of around 2,270 people.
In 1856, after Wilberforce College was established there, the community also took on the same name. It served as an important stopping point for refugees escaping slavery on the Underground Railroad before the American Civil War ensued. It had seven such stopping stations.
The Ohio Historical Society runs the National Afro-American Museum and Cultural Center, which is in Wilberforce. It displays exhibits and learning opportunities for the regional community. The Association of African American Museums, also located in Wilberforce and funded by the private university, works to build professional capacity among smaller museums.
Wilberforce has two historically black colleges, Wilberforce University (along with Payne Theological Seminary), and Central State University.
Wilberforce University was set up privately in 1856 as a joint project by the Methodist Episcopal Church of Cincinnati and African Methodist Episcopal Church. In 1863, the AME Church sold another property in order to buy the college after its temporary closing because of financial problems during the war. It is the first college to be owned and operated by African Americans. For many years, Bishop Daniel Payne, who led the founding and later purchase of the college, was its first president. A slew of prominent scholars have taught classes there.
Among those prominent professors was Charles Young, a West Point graduate and 19th-century U.S. Army officer who served with the Buffalo Soldiers in the West and later taught at Wilberforce. Born into slavery, Young became the highest-ranking African-American officer in the Army, a status that remained so until after World War I. His former residence, Youngsholm, has been designated as a National Historic Landmark and the Charles Young Buffalo Soldiers National Monument.
Established by the state in 1887, Central State University was set as a commercial, normal and industrial department. It was located at Wilberforce in the late 19th century. In 1947, the department had expanded to four-year programs and it was established as a separate institution. With continued development, it achieved university status in 1965.
Local Reviews
for Wilberforce, OH
Powered by Nearby Now
---
Jeffery R.
I completed a diagnostic service call on an air conditioner. I found the float to the condensate pump stuck, after flushing it out float it did not stick any longer. The safety switch had tripped. If the condensate pump repeats this problem we will bring a 120 VAC pump and replace it.
Near
Arthur Dr,

Wilberforce

,

OH

45384
Timothy H.
After removing the Trane gas furnace and air conditioner, I installed a Five Star 96% 2 Stage Variable Speed 80,000 BTU Gas Furnace 5T 21" and a Five Star 16 SEER 2 Ton Air Conditioner. Cycled and monitored the system. Operating normally at this time. Included with the installation is a free 1 year service maintenance agreement.
Near
Arthur Dr,

Wilberforce

,

OH

45384
James L.
Performed a sma tune-up and safety check-up for a AC unit. Found outside coil full of debris, advise customer to clean out around the outside coil. Technician found a weekend capacitor at the AC unit rated 45/5 Actual 39/3.9, Client opted to replace at this time. AC unit appears to be slightly low on refrigerant, however delta T/the temperature difference between supply and return air was at 19 and in nRange. Customer opted not to have refrigerant charged into the system at this time. Technician advised that if the system could not keep up during the summer hot months to call us back to recheck it.
Near
Garcia Dr,

Wilberforce

,

OH

45384
Josh A.
I performed a diagnostic on a Lennox gas furnace and found the blower was not running. I finally was able to spin it by hand, but found it filled with stink bugs. I cleared out the stink bugs, then reinstalled it. The system ran perfectly afterwards.
Near
Arthur Dr,

Wilberforce

,

OH

45384