Proudly Serving Yellow Springs, OH

Residents
Our team at Xenia Heating & Air proudly services the people of Yellow Springs, OH, with the highest quality of HVAC services in the area. If you are an Yellow Springs resident who is looking for a reliable, affordable and five star rated HVAC company to serve your needs, look no further.
At Xenia Heating & Air we offer a wide variety of HVAC services including: repairs, replacements, and maintenance for your air conditioner, furnace, or heat pump. No matter the brand or age we can help you get comfortable in your home again. If your looking to improve your homes indoor air quality we also offer a wide range of add-on devices and systems that include whole-home humidifiers, dehumidifiers, air purification technology, UV lights or UV Lamps, air filters, iWave-Rs and more.
If you reside in Yellow Springs and need assistance, we would be honored to help you by providing any of our premium HVAC services at the most affordable price rates in the region.
Need emergency heating or cooling services? Give us a call.
Is your AC blowing warm air? Give us a call.
Is your furnace not warming your home? Give us a call today at (937) 708-8451. You can also get the ball rolling now and set up an appointment online by clicking here!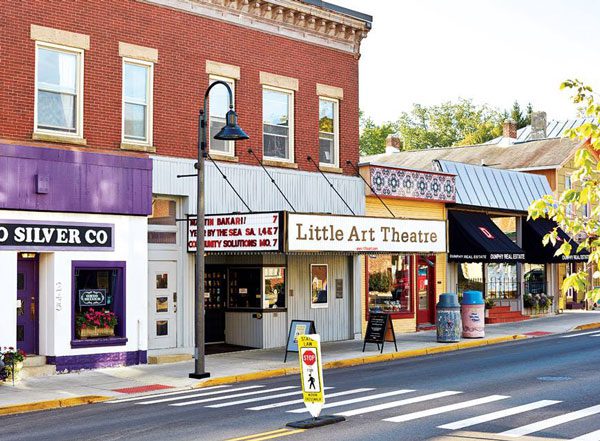 Learn More About Yellow Springs, OH
A rare, beautiful village nestled away in Greene County, Yellow Springs is rich with history, culture, art and attractions that truly make it one of a kind. In 1825, the Yellow Spring was founded by William Mills and 100 families who wanted to emulate a utopian community in New Harmony, Indiana. Because of internal conflicts, the communitarian efforts dissolved. The village, however, was named after several nearby natural springs in which waters were seen as rich in iron content. Yellow Springs had long been the home of Shawnee Native Americans, most of whom were forced out when European-American settlement arrived and pushed westward. In 1846, the completion of the Little Miami Railroad resulted in much more commerce here as well as more inhabitants to this area of Greene County. A great deal of visitors during the nineteenth century came for the springs, as they were believed to have health benefits. Yellow Springs was incorporated as a village in 1856. Founded by the Christian Connection in 1850, Antioch College started offering classes in 1853 with the distinguished scholar Horace Mann serving as its first president. In 1920, Arthur E. Morgan became president of Antioch College. Morgan was known for his innovations and he implemented a popular work-study program for students. An engineer by training, Morgan left Antioch to become head of the Tennessee Valley Authority during President Franklin D. Roosevelt's administration. Upon his return, he was a key leader of Quaker intentional community developments in Ohio and in North Carolina. Antioch College expanded beginning in 1964, to include 38 "centers" around the country by the end of 1979. Its by-laws were changed to define Antioch as a "network", not a college, owned by Antioch University Corporation. In 1986, 32 of its units around the country were closed, leaving six campuses, which included both its original College campus in Yellow Springs and the college's School of Adult and Experiential Learning there. It operated separately as Antioch University McGregor. That adult and graduate education school was renamed as Antioch University Midwest in 1988. Among the many attractions in Yellow Springs are Glen Helen Nature Preserve, Little Miami Scenic Trail, John Bryan State Park, Clifton Gorge State Nature Preserve, Young's Dairy and a slew of parks and other attractions.
Local Reviews
for Yellow Springs, OH
Xenia Heating & Air
Rated
5.0
out of 5 stars based on
2
customer reviews
Powered by Nearby Now
---
Review of Xenia heating and air conditioning service
Michael

-

Yellow Springs

,

OH



Review of Xenia Heating & Air
Met all expectations. The tech, Hassan, was on time and very polite and personable as well as knowledgeable.
---
Prompt service, very professional
Jim

-

Yellow Springs

,

OH



Review of Xenia Heating & Air
I've worked a couple times with this technician now, and his service has always been exceptional. Arrives on time, communicates clearly, professional manner, and is efficient with his work. Highly recommend this company.
---
Mike H.
I completed the scheduled maintenance agreement cooling tune up on a Carrier air conditioner. I visually inspected the unit. Checked voltages, amps and pressures. Completed combustion analysis. I inspected the evaporator coil. I checked the temperature difference across the coil. Checked voltage and amps. Inspected heat pump. Checked refrigerant charge, voltages and amps. I rinsed the condenser coils with water. Cycled and monitored systems. All operating normally at this time.
Near
Yellow Springs

,

OH

45387
Josh A.
1999 Unit clicks on then right back off Blower motor won't stay on Red light when tries to turn on
Near
Yellow Springs

,

OH

45387
Josh A.
Removed old stat. Checked wiring on furnace board and found it to be incorrectly wired. Rewired board and installed new stat. Programmed Stat and installed app on customers phone for him. Tested system to make sure it was operational. System is working properly upon departure.
Near
Yellow Springs

,

OH

45387