Let Us Install Your New Furnace!
Having a new furnace or heating system installed in your home is a big decision, a significant home investment, and a decision that should not be taken lightly without a good bit of research. Knowing this, we treat our customers like we would want to be treated if we were in their shoes making a major choice like this; we treat you with respect, courtesy and professionalism with the utmost care. Our staff members are always friendly; we are always upfront about our pricing and we don't have any sort of hidden fees. We patiently go over all the options available to you and guarantee you there will not be any sales pressure whatsoever during the entire process. When it comes to making a major buying decision like getting a new furnace or home heating system, we want you, the customer, to feel as comfortable as possible. We want you to know you'll be well-informed, and we make sure you have full confidence moving forward.
For almost 50 years, our growing, well respected, family-owned company has been installing all kinds of different types of heating equipment, including both gas and electric furnaces, zoned and ductless systems, heat pumps and air handlers and much more to satisfied customers all over central and southwest Ohio.
We emphatically test and screen our technicians to guarantee we hire only the absolute best professionals in the business and we match that excellence with the most superior products on the market at the lowest, most competitive prices possible.
First and foremost, above all else, we guarantee your satisfaction as a customer.
But don't take our word for it. If you doubt any of this information, please be sure to check out our ratings and reviews to see what kind of reputation we have as a Five Star company.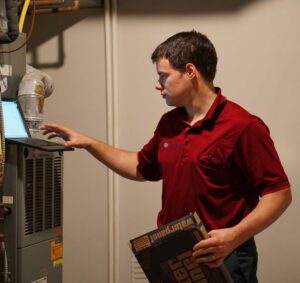 Should I Repair Or Replace My Furnace?
The Top 2 signs that It Might Be Time To Replace Your Furnace.
How Safe Is The Unit?
Safety is more than a saying in our line of work: Safety needs to always come first. If a home heating system ever presents any sort of health or safety hazard, it needs to be replaced, especially if a repair is expensive, or impermanent.
One example would be if your heat exchanger is cracked on your furnace. Something like this could cause carbon monoxide to leak, which could be fatal.
How Old Is The Unit?
The average lifespan of a furnace fluctuates on average between 15 and 20 years. Having said that, if your unit is more than 20 years old, that doesn't necessarily mean it needs to be replaced. When it comes to HVAC systems and furnaces, life expectancies are ballpark figures. Some heating systems last longer than others and certain factors (like consistent preventative maintenance) increase any HVAC system's lifespan.
How Long Does It Take To Install A New System?
After you have decided on a system, it's all downhill from there. Usually, it only takes about a day for our install technicians to put in a new system. They begin the process by removing your old furnace and properly disposing of it. After that, they install the brand new system. Depending on what all you are purchasing with the new system, the next step is to put in all those additional parts — these are usually add-ons like maybe a smart thermostat, a humidifier, a dehumidifier, perhaps some UV lights or an iWave-R to keep your air quality clean. Finally, we reconnect the ductwork, calibrate the new system controls, and perform tests on the new system to ensure everything is 100 percent pristine in prime working order. After we have established that everything is functioning nice and precise, we walk you through showing you everything we did, and demonstrate for you how to use the new system and making sure you're 100 percent happy with every single detail and you thoroughly understand how to operate everything.
Get The Deals You Deserve This Season, On Furnace Repair + Maintenance!
Keeping your home at a comfortable temperature can be challenging and expensive without regular HVAC maintenance. This deal includes a safety check on all major components, a carbon monoxide test, and more! Learn more about this deal and schedule today!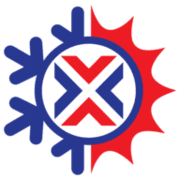 $89 Diagnostic Service Call
Save $50 | Regular $129
When Is A Good Time To Replace My Furnace Or Heating System?
When to replace a furnace or heating system is a question every homeowner should begin asking themselves long before the actual time arrives to have the work done.
Although there are numerous factors to consider, the average useful lifespan of a furnace is somewhere between 15 to 20 years. Heat pumps, however, are usually only good for 10 to 15 years. The biggest factors that affect how long a system is good for include how well it was maintained seasonally and how well it was installed in the first place.
If a system was to have been maintained by a previous owner, there's a chance they might have tried cutting costs and saving money by performing the maintenance on their own, if at all. If they did the maintenance on their own, they are likely to have skipped over important steps because of a lack of experience, if maintenance was even done to begin with. If you don't know whether it received regular seasonal maintenance, it's best to assume it didn't. Ultimately, while some installers do a better job than others, there's also a chance the original installation may not have been done properly.
When you take this into consideration, sometimes it can make more sense to replace a furnace or central heating system rather than keep spending money on one that's outdated and ineffective, especially if it is costing you more to operate due to energy inefficiencies. What can make this decision challenging is that it can be difficult to determine if your system is on its last leg until it's too late. However, if you've already spent a lot of money making repairs and the system is still having problems, it's probably time to consider having a new one installed. You don't want to go down that road of spending money only to reach a point where you realize it would not have cost much more to have it replaced when it first began giving you problems. And now that you've spent all that money, you still need a new system.
Because our top-notch HVAC technicians have tons of experience, they can examine your heating system and suggest whether you should repair it, or whether replacing it would be the wisest option. If you decide to replace, we make the entire furnace installation process as fast, easy, and as positive as possible ‒ a Five Star Experience every time. You will be treated fairly by a kind and courteous professional. There won't be any sales pressure; there's never any hidden fees or unexpected surprises and your satisfaction is guaranteed.
What Types Of Heating Equipment Do We Install
At Xenia Heating & Air, we stay current with the latest heating system technology, trends and products. Because of this, we sell and install all sorts of top-of-the-line equipment that include systems that are multi-speed, single-stage, variable speed, gas and electric furnaces, ductless mini-split systems, heat pumps, and air handlers — all at the most competitive rates in the local market. To determine what would be best for your home and your specific needs, we start the process by looking at the square footage area needing heat in your home and take the number of rooms and combine that information with other factors to analyze the information and come up with recommendations concerning your new replacement system. 
What Sort Of Warranty Comes With A New System?
Anytime someone purchases a new heating system or furnace, the manufacturer will give you a 10-year limited warranty on all the parts. To go with that, we at Xenia Heating & Air provide you with our own 10-year warranty on all the labor as well. With these two warranties, if you have any problems with your new home heating system you are covered 100 percent. Having said that, in order to limit the number of call backs, we make 100 percent sure we hire only the most skilled technicians possible, technicians who do the installation right the first time. Then, once they've installed the system, we double-check every bit of our work once it's complete and test it out before taking you on a final walk-through of the installation to make sure you are 100 percent happy with the job and you fully understand how everything works. When we leave your home after a thorough clean up, you will be satisfied with everything and have peace of mind in addition to clean air and superior comfort.
Having said that, we realize that mistakes (however uncommon) can happen. So we give our customers top priority on warranty calls with our convenient and fast same-day scheduling; we schedule in three-hour arrival windows and give you a call when we are within 30 minutes of arriving to let you know we're on our way. Call us today to get a free quote on a new heating system (937) 708-8451.